Canadian Children's Book Week – May 2-8, 2021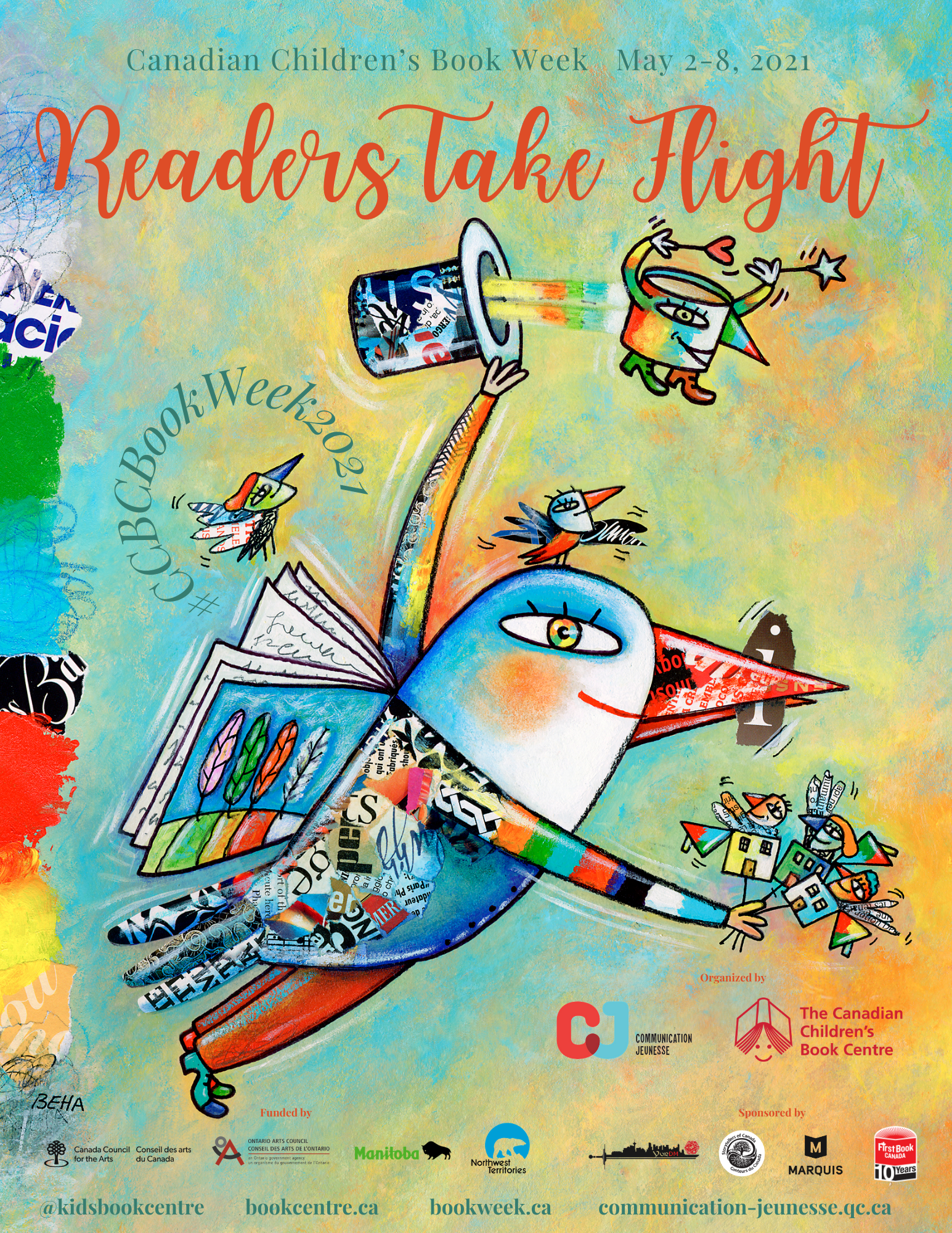 Award-Winning Canadian Children's Authors Tour Nova Scotia Virtually for Canadian Children's Book Week
Nova Scotia's public libraries are presenting a series of virtual library and classroom visits with award-winning Canadian children's authors for Canadian Children's Book Week 2021.
Teachers, schools, classrooms, children and families across the province are welcome to attend! All events will be hosted on Zoom and coordinated by the Halifax Public Libraries.
Canadian Children's Book Week is Canada's largest celebration of reading, connecting Canadian authors and illustrators with children and teens across Canada. The month of events is organized by the Canadian Children's Book Centre, a national, not-for-profit organization founded in 1976.
How to Participate:
Register your classroom or family using the links below. You will be emailed an invitation link to Zoom and instructions on the day of the event. All devices are accepted.
Tuesday, May 4th / 2pm
Stories from the Caribbean and the world
From her own Caribbean oral tradition, and from the rich cultural traditions of Europe, Africa, and the world, Rita will share stories to make you think, laugh, and even scare you a little. Audience participation will be encouraged.
Dr. Rita Cox is recognized as a Canadian icon. She is a librarian by profession, a renowned storyteller, and an admired community leader. In 1995, Dr. Cox was appointed as a Citizenship Court Judge by the Government of Canada. All Ages, 60 minutes.
Wednesday, May 5th / 11am
X-Men drawer J Torres has some fun twists planned for you in this unusual readers theatre experience. You'll find out how he writes scripts for his comics and graphic novels, like Planet Hockey, and how stories go from script to the art and finally the printed book. 
J. Torres was four years old when his family immigrated to Canada from the Philippines. By the third grade, he was writing and drawing comic strips for the school paper and then in the early 2000s he wrote some X-Men stories for Marvel and Teen Titans Go series for DC Comics. Grades 4-6, 60 minutes.
Thursday, May 6th / 11am
What IS a treasure? Mireille Messier reads her award-winning picture book Treasure / Trésor and talks about the treasures, big and small, that can be found in nature. Mireille's presentation is followed by a question and answer period with the author. 
Mireille Messier is a Montreal-born, Ottawa-raised and now Toronto-based, award-winning children's writer with a background in broadcasting and theatre. Since the launch of her first book in 2003, Mireille has published over twenty-five books, some in French, others in English. Ages 4-7, 30 minutes plus Q&A.
Thursday, May 6th / 1:30pm
Today's youth often feel the world is a place with too many divides and not enough hope. To help them navigate this difficult space, Natasha uses storytelling to show the strength of the human spirit and the resiliency of hope and kindness. She tells us about her grandmother educating herself in secret and her grandfather enduring racial violence while rising to be the CEO of a large company, as well as lessons from her own life.
Natasha Deen is a Guyanese-Canadian author, who writes for kids, teens, and adults. She visits libraries and schools to help youth find and tell the stories that live inside of them. Grades 7-12, 60 minutes.
Friday, May 7th / 11:00am
Hatem wants to share with you stories about the many books for young people he has illustrated, such as The Proudest Blue with Ibtihaj Muhammad & S.K. Ali and the Newbery Honor winner The Inquisitor's Tale by Adam Gidwitz, among others.
Hatem Aly is an Egyptian-born illustrator whose work has been published all over the world. He currently lives in beautiful New Brunswick, Canada, with his wife, son, and more pets than people. Ages 5-13, 60 minutes.
Saturday, May 8 / 2pm
Kenneth had his first book published at 17, and hasn't stopped yet. Enjoy his illustrated talk as he takes you on a journey of his development as an author, from his earliest writings in school to how he got his ideas for his best-selling, award-winning, and latest books. Kenneth will also share his creative process and tips for the aspiring writer.
Kenneth Oppel is the bestselling author of numerous books, including Airborn, which won the Governor General's Award for children's literature, and the Silverwing trilogy, which has sold over a million copies worldwide. His