Canadian Children's Book Week 2022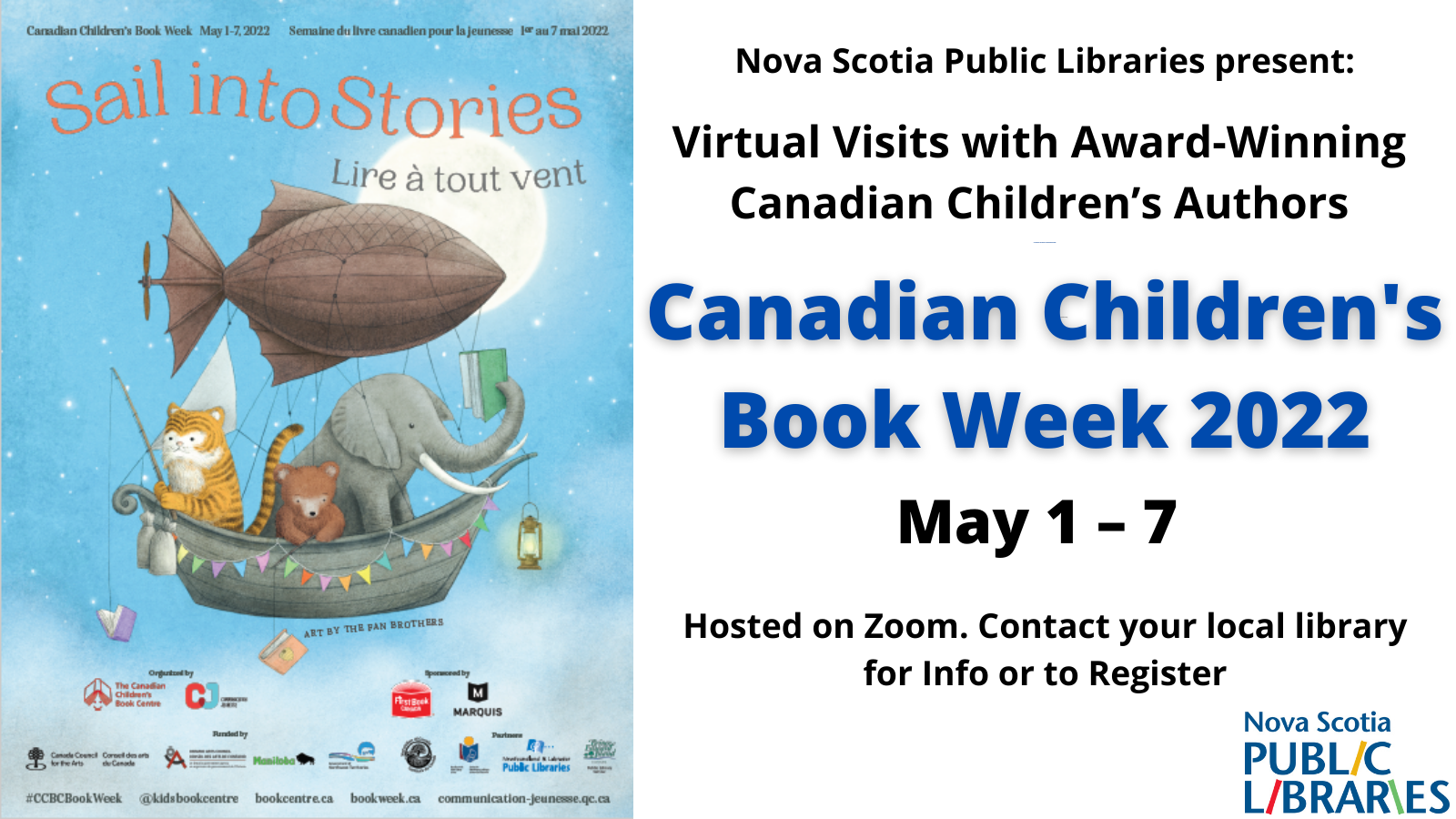 May 1 – 7
Hosted on Zoom
Nova Scotia public libraries present this series of seven virtual author and illustrator talks May 1 – 7, as part of Canadian Children's Book Week 2022.
Teachers, schools, classrooms, children and families across the province are welcome to attend! All events are hosted on Zoom.
To Register your classroom, school group, family or child, please contact your local public library. Visit publiclibraries.ns.ca to find yours. Or email ray.fernandes@novascotia.ca for more information.

Isabelle Groc
Monday, May 2 / 1:30-2:30pm
Based on Isabelle Groc's book Sea Otters: A Survival Story, this engaging and visual presentation takes audiences on a tale of survival and transformation. 

Michael Hutchinson
Tuesday, May 3 / 10:45–11:45am
Michael Hutchinson's books touch on many topics including environmental degradation, residential schools/60s Scoop and the impact of urban landscape on Indigenous people. He aims to educate and improve the Canadian/First Nations relationship by discussing these topics, including how to use life experience to inspire writing. 


Kallie George
Tuesday, May 3 / 1:30–2:30pm
Kallie George will share a vibrant visit designed to empower and inspire students to read and write their own stories.​ She will also talk about the books she created in childhood, to the award-winning published series that she writes today. 


Ekiuwa Aire
Wednesday, May 4 / 10:45-11:30am
Ekiuwa Aire presents the best of African culture and history in a friendly and engaging way - through geography, music, dance, and landmarks. 


Nhung Tran-Davies
Wednesday, May 4 / 1:30–2:30pm
Nhung Tran-Davies will share stories of refugees, immigrants and the power of kindness. She will read from her latest book The Doll and share pictures and stories of Nhung's background as a refugee.


Stephanie Cooke
Thursday, May 5 / 10.45-11:45am
Have you ever wondered how a comic book or graphic novel gets made? Or how many people work on one book? Stephanie Cooke delves into all of this and more as she explores the world of the comic book industry and sheds light on the process of writing a story from inception to completion.


Ruth Ohi
Friday, May 6 / 10:45–11:30am
Get your favourite crayon or pencil and paper ready to draw along! Ruth Ohi is going to share how she writes and draws for picture books. Through a fun and interactive Call & Response Draw Along, students will brainstorm characters and build story ideas. 
Canadian Children's Book Week is Canada's largest celebration of reading, connecting Canadian authors and illustrators with children and teens across Canada. The month of events is organized by the Canadian Children's Book Centre, a national, not-for-profit organization founded in 1976.