August Shows & Workshops -- Nova Scotia Public Libraries Tour 2021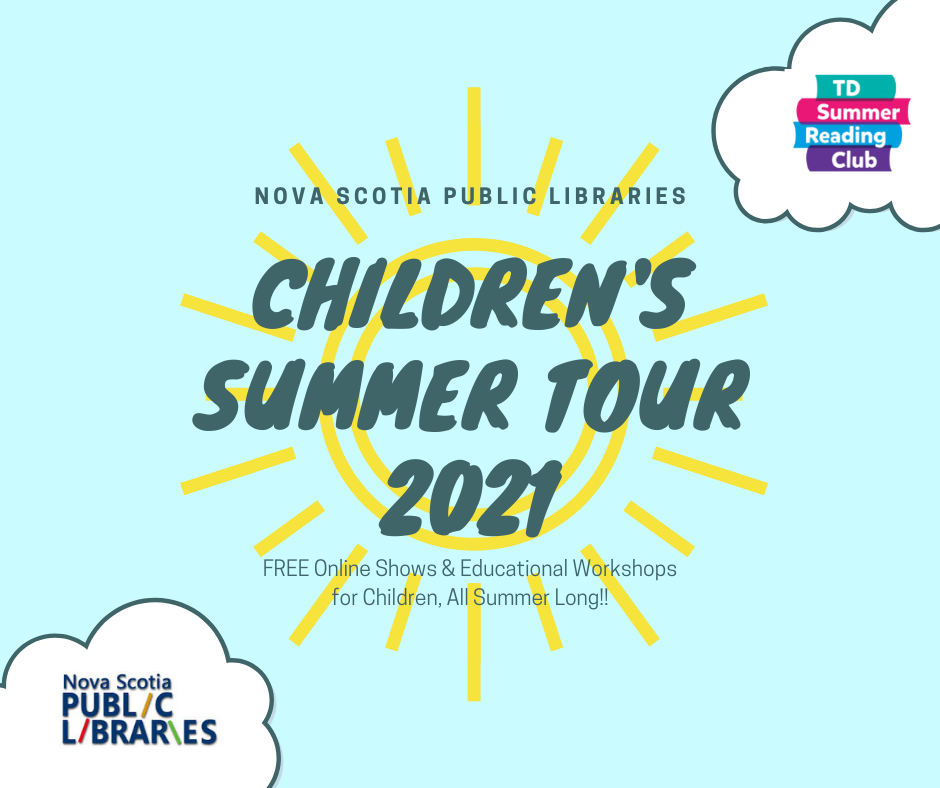 FREE virtual shows & educational workshops, all SUMMER long.
Check out our series of virtual shows and workshops with Canadian children's performers and educators, as part of the libraries' Summer Reading Program. All are welcome, join us online!!
How to Participate:
Performances and workshops are hosted on Zoom by the library. Simply click on the link on the day of the show. All devices are accepted.
Wednesday, August 4 / 2:30pm
Join the Nova Scotia Museums Mi'kmaq Cultural Heritage Curator Roger Lewis for Mi'kmaq stories, legends and more. Roger is a Mi'kmaw historian and research archaeologist, a curator of ethnology with the Nova Scotia Museum and a member of Indian Brook Mi'kmaq First Nations located near Shubenacadie, N.S. To watch, simply click the link below on the day of the event: https://us02web.zoom.us/j/83387711773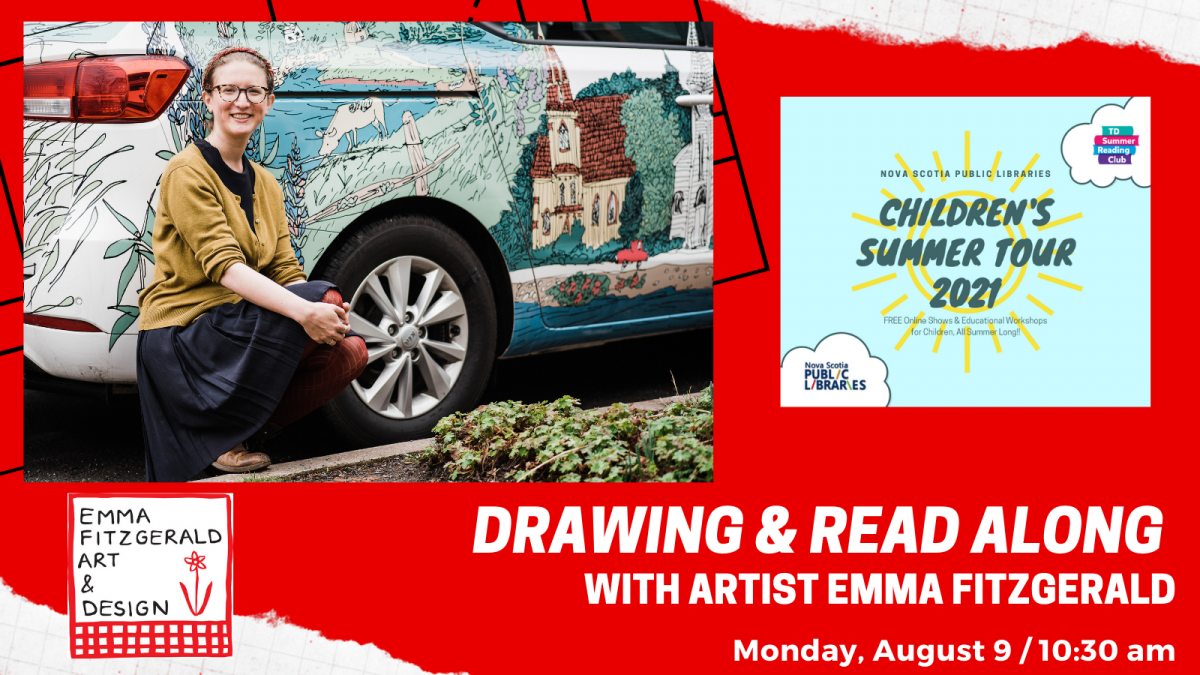 Monday, August 9 / 10:30am
Illustrator/author Emma FitzGerald is known for her whimsical sketches, and will read and share images from "EveryBody's Different on EveryBody Street" (Sheree Fitch). You will have a chance to draw with Emma. First, you will learn some basic warm up techniques, and then dive into an exercise that explores your feelings in a unique and accessible way.
This online workshop is perfect for children and adults, and we hope the exercise will spark conversation about the range of feelings we can have in a day. Prepare your materials before our session and have fun drawing. To watch, simply click the link below on the day of the event: https://us02web.zoom.us/j/87613284909
Materials to have on hand:
3+ pieces of 8.5 x 11 inch paper, e.g. computer paper. If you have watercolour paper on hand, you can use 2 pieces of regular paper, 1 piece of watercolour paper.
1 hard surface to draw on, such as a table or clipboard.
1 pen, preferably a black fine liner, e.g. Uniball fineliner pen from Staples. However, any pen will do
1 bunch of your preferred colouring materials, such as pencil crayons, watercolour paints, or felts.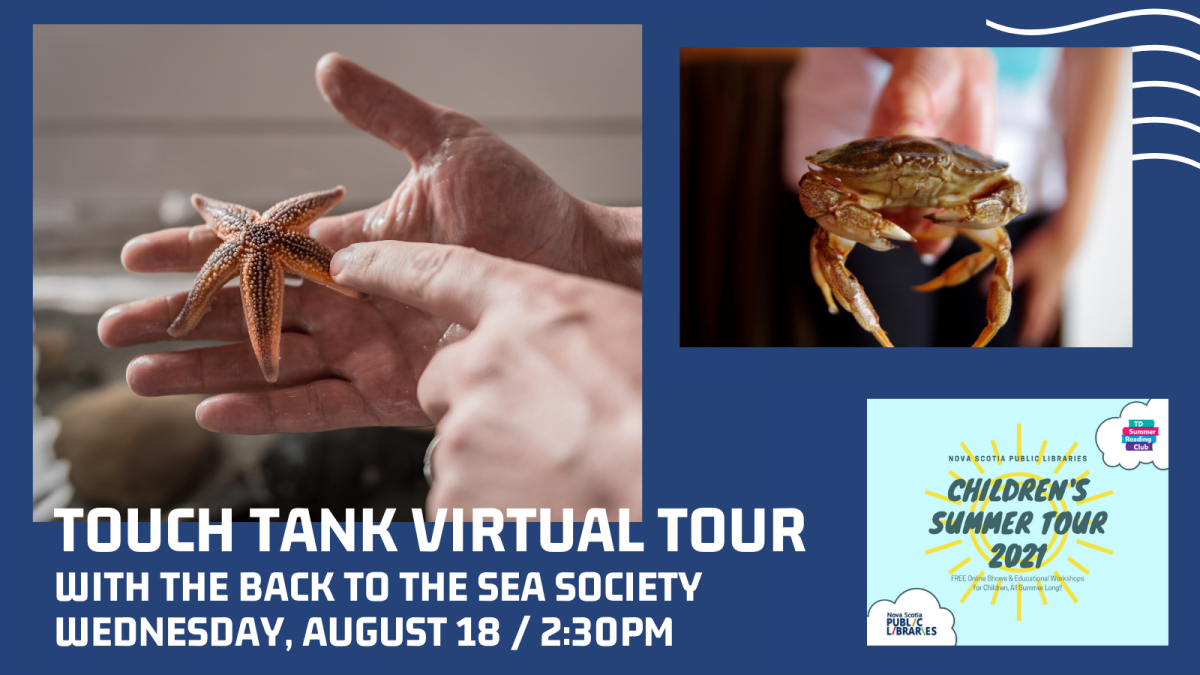 with the Back to the Sea Society
Wednesday, August 18 / 2:30pm
Dive into Atlantic Canada's intertidal zone by joining an exclusive virtual tour of Back to the Sea's Touch Tank Hut, located in Dartmouth, Nova Scotia. Discover marine invertebrates, such as hermit crabs and sea stars, and have a chance to ask your questions. Perfect for all ages, this tour is designed for anyone who is curious about marine life and wants to see these animals in action. To watch, simply click the link below on the day of the event: https://us02web.zoom.us/j/82598389250
Monday, August 23 / 10:30am
Multilingual multi-instrumentalist Mary Beth Carty from Antigonish is excited to share her living Gaelic culture with all ages. You will sing, try some step-dance moves, and discover cool old-fashioned instruments that unite the world, including the musical bones. Clap, tap, or dance along - in your dancing shoes or your bare feet - and let's have a Ceilidh! Ciad mile failte! To watch, simply click the link below on the day of the event: https://us02web.zoom.us/j/81797269153