Children's Performer/Educator Virtual SUMMER TOUR 2021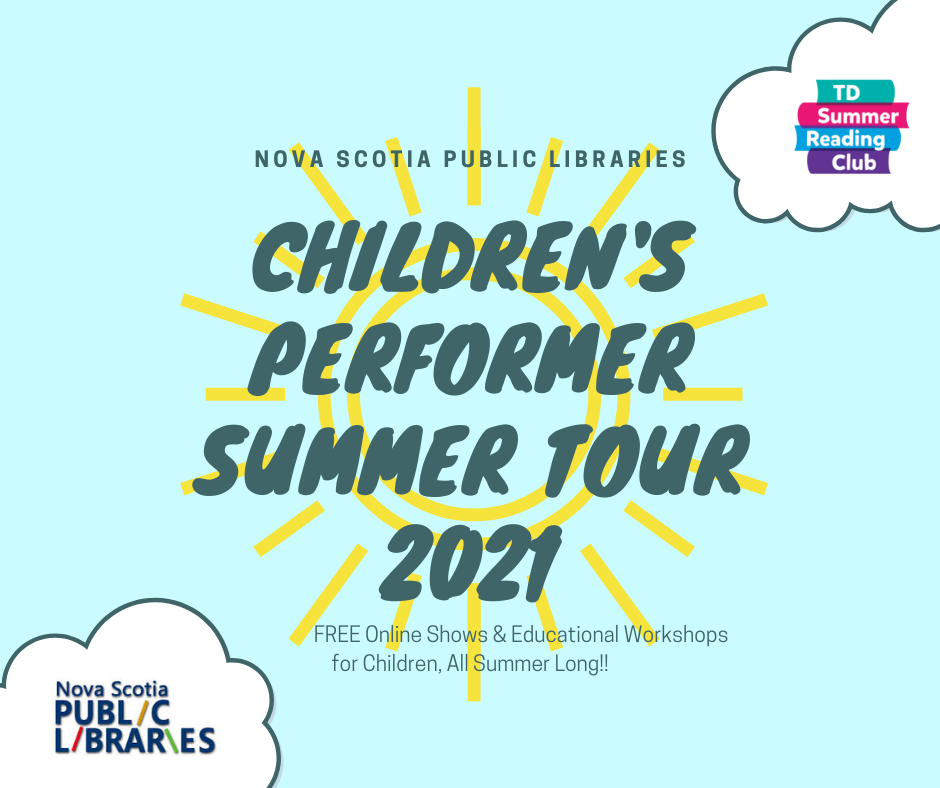 Children's Performer Summer Tour 2021
FREE virtual shows & educational workshops, all SUMMER long!!
Nova Scotia public libraries are presenting a series of virtual shows and workshops with Canadian children's performers and educators, as part of the libraries' Summer Reading Program. All are welcome to join us!!
How to Participate:
Performances and workshops are hosted on Zoom by the library. Simply click on the link on the day of the show. All devices are accepted.
Wednesday, July 7 / 2pm
Join Juno Award nominee Mary Lambert for this interactive, all ages show. Enjoy music, dancing, props, costumes and more. Learn how to do the Black Fly Boogie and why you should always Take Your Umbrella to the Beach!
Wednesday, July 14 / 2:30pm
Artist, musician, educator, and humanitarian, Dr. Henry Bishop will teach us rhythms and grooves, and demonstrate various types of drumming. Perfect for all ages, play along on anything that will make a sound: a small bucket, an old pot, or the top of your desk.
Wednesday, July 21 / 2:30pm
Get ready for science fun with Mad Science. Follow along at home for some experiments, our Mad Scientist will do other experiments for kids to watch. From colour changes to fizzy foamy fun, and even some dancing raisins, get ready to be amazed while you learn!
For a list of supplies to follow along at home, CLICK HERE.  
Monday, July 26 / 10:30am
Puppet show adventure on the high sea! Join the chase for the Great Purple Whale. Applefun Puppetry presents 45 minutes of interactive fun. Afterwards, everyone will learn how to make a paper puppet.
Information and links to August shows and workshops will be available in the coming weeks… Check Out what we have coming up!
Mi'kmaq Stories
with NS Museums Mi'kmaq Cultural Heritage Curator Roger Lewis
Wednesday, August 4 / 2:30pm.
Roger Lewis is a Mi'kmaq historian, one of the first Mi'kmaq archeologists, and member of the Indian Brook Mi'kmaq First Nations community located near Shubenacadie, Nova Scotia.
Draw and Read along
Monday, August 9 / 10:30am
Learn some basic warm up techniques and then dive into a drawing exercise that explores our feelings in a unique and accessible way. Based on "EveryBody's Different on EveryBody Street" by Sheree Fitch.
Touch Tank Hut Virtual Tour
August 18 / 2:30pm
Tour the Touch Tank Hut, a miniature marine interpretive centre located on the Dartmouth, Nova Scotia waterfront, and meet a variety of sea creatures!
Got the Gaelic!
with multilingual multi-instrumentalist Mary Beth Carty
Mary Beth Carty from Antigonish is excited to share her living Gaelic culture with all ages for this year's library tour!
August 23 / 10:30am