Heritage Day 2018 - Nova Scotia Commemorates: Mona Parsons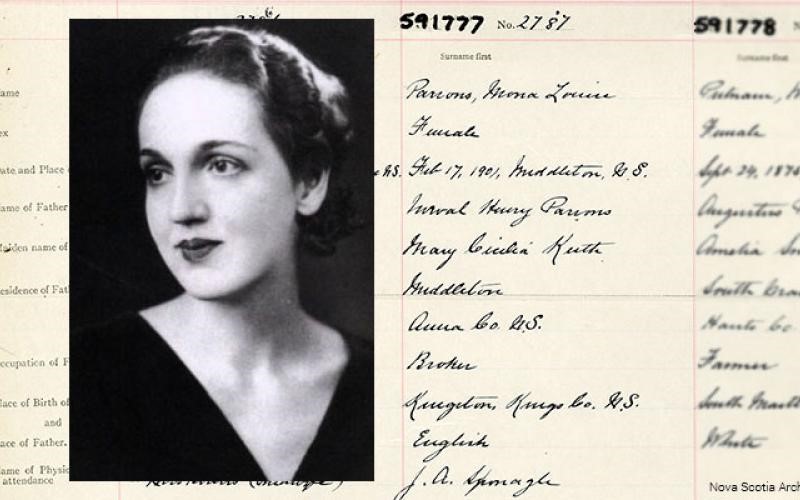 February 19, 2018
https://heritageday.novascotia.ca/
Born in Middleton, Nova Scotia in 1901, Mona Parsons was a member of the Dutch Resistance in the Netherlands and the only Canadian woman to be imprisoned by the Germans during the Second World War. Her capture and remarkable escape from prison is a remarkable story.
Library Events:
"Mona Parsons: from privilege to prison, from Nova Scotia to Nazi Europe" - Author Reading, Andria Hill-Lehr will share excerpts and details about Mona's life:
       **Find copies of Mona Parsons: from privilege to prison, from Nova Scotia to Nazi Europe in libraries across Nova Scotia. It is also available online as an E-Book, login in with your public library card:
"The Bitterest Time: The War Story of Mona Parsons" - Intimate play reading:
Find more info about events taking place celebrating Mona Parsons, Nova Scotian women and the 100th anniversary of women's suffrage in Nova Scotia, visit the Heritage Day website:
https://heritageday.novascotia.ca/content/2018-heritage-day-events
The story of Mona Parsons is one of many... Find more stories of Notable Nova Scotian Women and celebrate at your local public library: http://publiclibraries.ns.ca
**Please note that public libraries are closed on the Heritage Day Holiday.
Notable Nova Scotian Women - Booklist:
Black women who made a difference in Nova Scotia / edited by Dolly Williams. Congress of Black Women of Canada, c2007.
Field notes: a city girl's search for heart and home in rural Nova Scotia / Sara Jewell. Nimbus Publishing, 2016.
I'm not what I seem: the many stories of Rita MacNeil's life / Charlie Rhindress. Formac Publishing Company Limited, [2016]
Invisible shadows: a Black woman's life in Nova Scotia / Verna Thomas. Halifax, N.S.: Nimbus, c2001.
Maud Lewis: the heart on the door / by Lance Woolaver. Spencer Books, 2016.
Mona Parsons: from privilege to prison, from Nova Scotia to Nazi Europe / Andria Hill. Halifax, N.S.: Nimbus Publishing Ltd., 2017. E-Book:
The Nova Scotia nine: remarkable women, then and now / portraits by Jo Napier; stories by Joanne Wise. Halifax, N.S.: published for the Advisory Council on the Status of Women by Communications Nova Scotia, 2014.
Rebel women of the east coast: daring to go beyond the limit / by Michelle Porter. Altitude Publishing, c2005.
The road here: stories from senior women in rural Nova Scotia / edited and photographed by Rachel Brighton. Bridgetown, N.S.: Western Area Women's Coalition, 2008.
Run, hide, repeat: a memoir of a fugitive childhood / Pauline Dakin. Penguin Canada, 2017.
Sister to courage: stories from the world of Viola Desmond, Canada's Rosa Parks / Wanda Robson with Ronald Caplan. Breton Books, c2010.
Song of Rita Joe: autobiography of a Mi'kmaq poet / Rita Joe; with the assistance of Lynn Henry. Ragweed Press, c1996.
Throwing rocks at houses: my life in and out of curling / Colleen Jones with Perry Lefko. Penguin Canada, 2015.
Women of courage: 15 Cape Breton lives, in their own words / collected with an introduction by Ronald Caplan [editor]. Breton Books c2016.
Year of the horse: a journey of healing and adventure / Marjorie Simmins. Pottersfield Press, 2016.
Children's Books:
Capturing joy: the story of Maud Lewis / Jo Ellen Bogart; illustrator, Mark Lang. Tundra Books, c2002.
Christmas with the rural mail: a poem / by Lance Woolaver; with paintings and hand-painted Christmas cards by Maud Lewis. Nimbus Pub., c2010.
For the children / Rita Joe; with woodcuts by Burland Murphy. Wreck Cove, N.S.: Breton Books, c2008.
Mayann's train ride / text by the Honourable Mayann Francis; art by Tamara Thiébaux-Heikalo. Nimbus Publishing, c2015.
Singing towards the future: the story of Portia White / by Lian Goodall; illustrations by Liz Milkau. Napoleon, c2004.
Viola Desmond won't be budged / Jody Nyasha Warner; pictures by Richard Rudnicki. Groundwood Books, c2010.
Online Resources:
NS Archives: Women of Nova Scotia - https://novascotia.ca/archives/virtual/?Search=THwmn&List=all
Vanguard: 150 Years of Remarkable Nova Scotians: Women and Men who Changed and Inspired Nova Scotia, 1867—2017 - https://museum.novascotia.ca/collections-research/vanguard
Mona Parsons:
Nova Scotia Museums: Mona Parsons - https://museum.novascotia.ca/resources/teachers/mona-parsons
The Canadian Encyclopedia: Mona Parsons - http://www.thecanadianencyclopedia.ca/en/article/mona-parsons/
Canada's History: Remembering Mona Parsons - http://www.canadashistory.ca/Explore/Women/Remembering-Mona-Parsons
Mona Parsons | Forgotten Canadian War Hero – from CBC's The National: Nov 11, 2015 (Video: 9:02 mins) - https://youtu.be/EPAzOkAyEzA
Notable Nova Scotian Women: 
Maria Louisa Angwin, 1849 — 1898
Nova Scotia physician, Nova Scotia's first woman to be licensed as a doctor.
Kate Beaton
Comics artist, creator of the popular comics "Hark! A Vagrant".
Sister Margaret Beaton, 1893 — 1975
Librarian and archivist, collected material pertaining to the history of Cape Breton and Gaelic materials that would otherwise have been lost, Beaton Institute of Cape Breton Studies named in her honour.
Nora Bernard, 1935 — 2007
Mi'kmaq activist, responsible for the largest class-action lawsuit in Canadian history that won compensation for survivors of the Canadian Indian residential school system.
Dr. Wanda Thomas Bernard
Canadian Senator, former Director and Professor, School of Social Work, Dalhousie University.
Dr. Carrie Best (1903 — 2001)
Human rights activist, author, journalist, publisher, co-founder of The Clarion, the first newspaper in Nova Scotia that was owned and published by Black Canadians.
Ellie Black
Artistic gymnast and medalist, represented Canada at the 2012 and 2016 Summer Olympics.
Anne-Marie Comeau
Acadian dancer and actor, achieved artistic excellence in two fields: dance and theatre.
Muriel Duckworth, 1908 — 2009
Feminist and peace activist, dedicated life to advancing world peace and social justice.
Mayann Francis
Human rights specialist, former Lieutenant Governor of Nova Scotia, and public servant.
Constance Glube, 1931 — 2016
Chief justice of the Supreme Court of Nova Scotia, first woman to become chief justice of a Canadian court, officer of the Order of Canada.
Dr. Joni Guptill
Nova Scotia physician, active in Nobel-prize-winning organization Doctors Without Borders (Médecins Sans Frontières or MSF), including serving as the president of MSF Canada.
Rita Joe, 1932 — 2007
Poet, earned many accolades, Unofficially known as the "poet laureate" of the Mi'kmaq people.  
Ursula Johnson
Award-winning multidisciplinary Mi'kmaq artist, explores issues of identity, colonial history, tradition, and cultural practice.
Anna Leonowens, 1831 – 1915
Speaker and writer, for improvements in women's education and women's suffrage, founded the Nova Scotia College of Art (today's NSCAD University).
Natalie MacMaster
Award-winning fiddler, from Inverness County, plays Cape Breton fiddle music.
Rita MacNeil, 1944 — 2013
Bestselling Canadian country and folk singer, named to the Order of Nova Scotia.
Aileen Meagher, 1910 — 1987
Track and field athlete, in both the Nova Scotia Sport Hall of Fame and the Canadian Olympic Hall of Fame.
Mary Ellen Robinson, 1927 — 2012
Mi'kmaw Elder and activist, fought for right of native women to marry non-natives and retain native status, help found the Native Council of Nova Scotia, received a medal for her years of community work.
Marie-Henriette LeJeune (Granny) Ross, 1762 — 1860
Acadian medical pioneer, midwife, healer, homesteading pioneer.
Margaret Marshall Saunders, 1861 — 1947
Writer, best-selling author, champion of children's and animal rights.
Portia White, 1911— 1968
Classically trained contralto, internationally renowned, toured and sang across Canada and internationally.