March Break 2017 @ the Library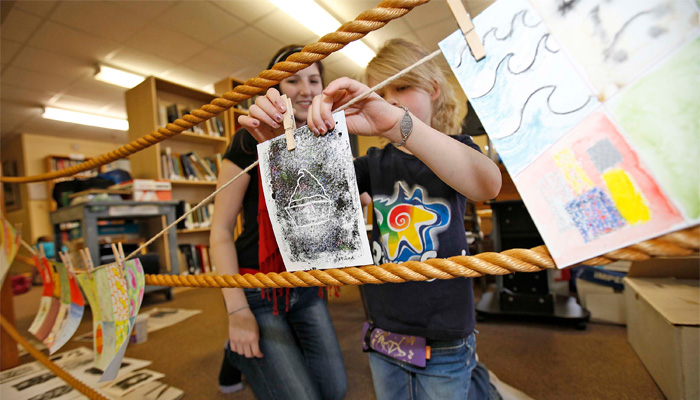 Public Libraries are busy places during March Break. Public Libraries across the province are planning hundreds of programs to keep you and your families busy over the March Break holidays.
Libraries are planning everything from puppet shows to storytimes, arts activities, craft projects, Lego, video games, scavenger hunts, board games, technology programs, and so much more.
Below is just a sample of some of the programs that will be happening over March Break, contact your local library to find out what's happening in your area - http://publiclibraries.ns.ca
Breakout: Save the World From Zombies – Berwick (ages 12-17)
Hands-on Technology Exploration – Windsor, Berwick, Wolfville (ages 8+)
Drumming With Kadijah – Bridgetown (ages 10-17)
Cartooning With Mark Oakley – Berwick (ages 9-18)
Art March – Kentville (ages 5-10)
Beads and Paper Planes – Kingston (ages 4-6)
Claymation Workshop – Baddeck
Harry Potter Day – Sydney (ages 7-12)
Family Fort Night – Sydney (all ages)
Lego – New Waterford, Glace Bay, Sydney
Board Games – New Waterford, Sydney
Simple Coding and Hardware Building Workshop – Sydney (ages 12+)
Green Screen Photo Editing – Tatamagouche, Elmsdale
Escape Room Programs – Elmsdale, Truro
Lego Robotics – Tatamagouche, Elmsdale
Photo-Journalling – Truro (ages 13-18)
Knitting & Crocheting – Mount Uniacke, Truro, Elmsdale
Family Fort Night – Truro
Lego Afternoon – Parrsboro, Oxford, Amherst, Advocate Harbour, Springhill
Mad Science – Springhill, Amherst (grades P-6)
Breakout: Zombie Apocalypse – Amherst (ages 12-18)
Movie Afternoon: Trolls – Amherst, Oxford (grades P-6)
Superhero Academy – Pugwash (grades P-6)
Art Attack – Advocate Harbour (grades P-6)
Let's Get Crackin' @ the Library - Chickens and Code! (their chicks should be hatching Mar 13th) –  Margaree Forks
Card Making Workshop for Kids – Guysborough (ages 5+)
Board Games – Canso
3D models and Lego robots – Mabou
Recording Studio Drop-in with Technical Support: Record a Podcast or a Tune – Mabou
Mental Aerobics – Mulgrave (ages 10+)
Puppet Show with Puppeteer Kate Silver – Port Hawkesbury, Petit de Grat
Maritime Reptile Zoo – Woodlawn, Central, Cole Harbour (ages 5+)
Mad Science – Cole Harbour, Bedford, Central, Halifax North, Spryfield, Keshen Goodman, Alderney Gate (ages 5+)
Magician Tim Gavel – J.D. Shatford, Central, Halifax North, Tantallon, Keshen Goodman (ages 7+)
Dartmouth Circus Club – Musquodoboit Valley, Sackville, Tantallon, Sheet Harbour, Musquodoboit Harbour (all ages)
Stop Motion Animation – Musquodoboit Valley, Sheet Harbour, Musquodoboit Harbour (ages 8+)
A Visit from Hope for Wildlife – Bedford, Sackville (ages 5+)
Lego – River John, Stellarton, Westville, River John, New Glasgow, Antigonish
Scavenger Hunt – Trenton, River John, New Glasgow, Stellarton, Pictou
Learn to Knit – Westville, Antigonish, New Glasgow
Gaming – Pictou, Westville, Antigonish
Library Detectives – Antigonish, New Glasgow
Evil Genius Club – Antigonish
Build a PC – Liverpool, Lunenburg, Bridgewater (ages 10+)
Art Classes For Kids – Liverpool, Lunenburg, Bridgewater (ages 5-7)
Minecraft – Liverpool, Lunenburg, Bridgewater (ages 7-12)
Needle Felting Workshop – Liverpool, Lunenburg, Bridgewater (all ages)
Inside Out 2-Hour Art Workshop – Liverpool, Lunenburg (ages 11-15)
Big Art / Inside Out Art Making – Lunenburg, Liverpool, Bridgewater
Introduction to Scratch – Yarmouth, Barrington
Ollie (app controlled robot) – Shelburne (ages 8-12)
Minecraft – Yarmouth, Digby, Weymouth, Clare
Lego – Shelburne, Digby, Barrington
Science Challenge – Lockeport (ages 5-12)
ReThunk Junk – Lockeport (ages 5-12)