Today is Canadian Library Workers Day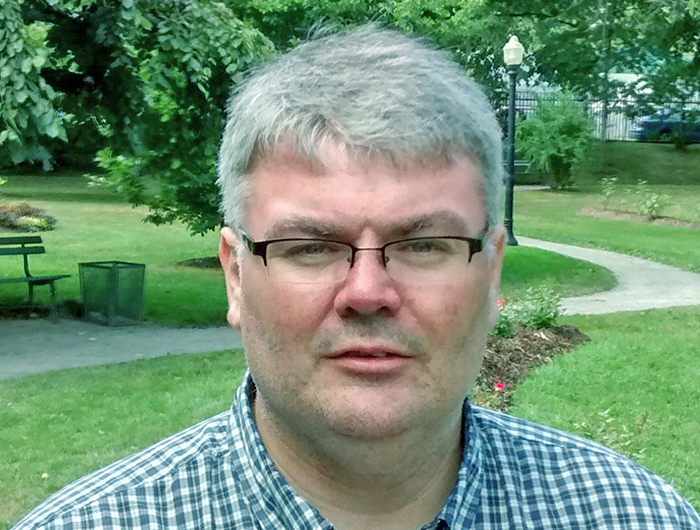 We'd like to introduce…Adam Davies.
Adam is a library technician at the headquarters office in Amherst, Nova Scotia.  He performs cataloguing for Cumberland Public Libraries.    
What do you love most about the library?   A library is adaptable and ever-changing.  Libraries always prove themselves to be relevant, even as the interests of library users change, as library collections evolve, and as new technologies and literacies emerge.    
What is the best moment you ever had at the Library?  The best moment was introducing my son to the library at a young age.  It was not just being able to browse the library collection and finding so many different books to read, but also in participating in library programs which targeted his reading development.  We cannot forget that libraries are absolutely essential to developing literacies in people of all ages.            
What has the library taught you? What lessons have you gained while working or being at the Library?  I have learned that libraries are a vital part of their communities.  They not only provide a wealth and depth of knowledge but they also act as a place for people to meet, to cooperate, and to discuss with one another.  Libraries cannot be the quiet, shushing places they once were but instead need to grow with their communities.  As a person employed at a public library I have learned to expect the unexpected – you never know when you will be called upon to find the release date of an author's upcoming book, the whereabouts of a long out-of-print volume, or how to download the latest phone app.                    
What was your first memory of the library?  I grew up in Ontario, in a town with a Carnegie Library.  More than that though, it was a town with a close connection to James Bertram, Andrew Carnegie's private secretary.  My first memory of a library is a beautiful but rather imposing building with an impressive circulation desk and numerous open stack shelves which I could browse at leisure.  Most memorable though was the large downstairs space, which was a room entirely given over to children's books.    
Did you ever think you'd end up working at a library?  No, I did not plan to work at a library but invariably that is where I kept ending up.  Libraries offered welcome refuge to a kid who liked to read a little bit of everything, they provided ideal employment while I was a student, and it was there that I found my first 'real' job.          
What are the connections that happen in Libraries?  Libraries can provide comfortable spaces for people to connect with each other and to learn new skills.          
What's the power of a library to inspire?  Libraries can be inspiring places, but more than that they need to be welcoming.  Without a knowledgeable staff, without people who are passionate about reading, information and learning, libraries are just buildings with books.      
Describe the library in three words:  More than books! 
What makes for a great day at work?  No two days are ever the same at a library but I think a great day at work will always include learning something new, some witty banter with co-workers, and a thought on what next to read.