Professional Storyteller Performing at 29 Public Libraries Across Nova Scotia This Summer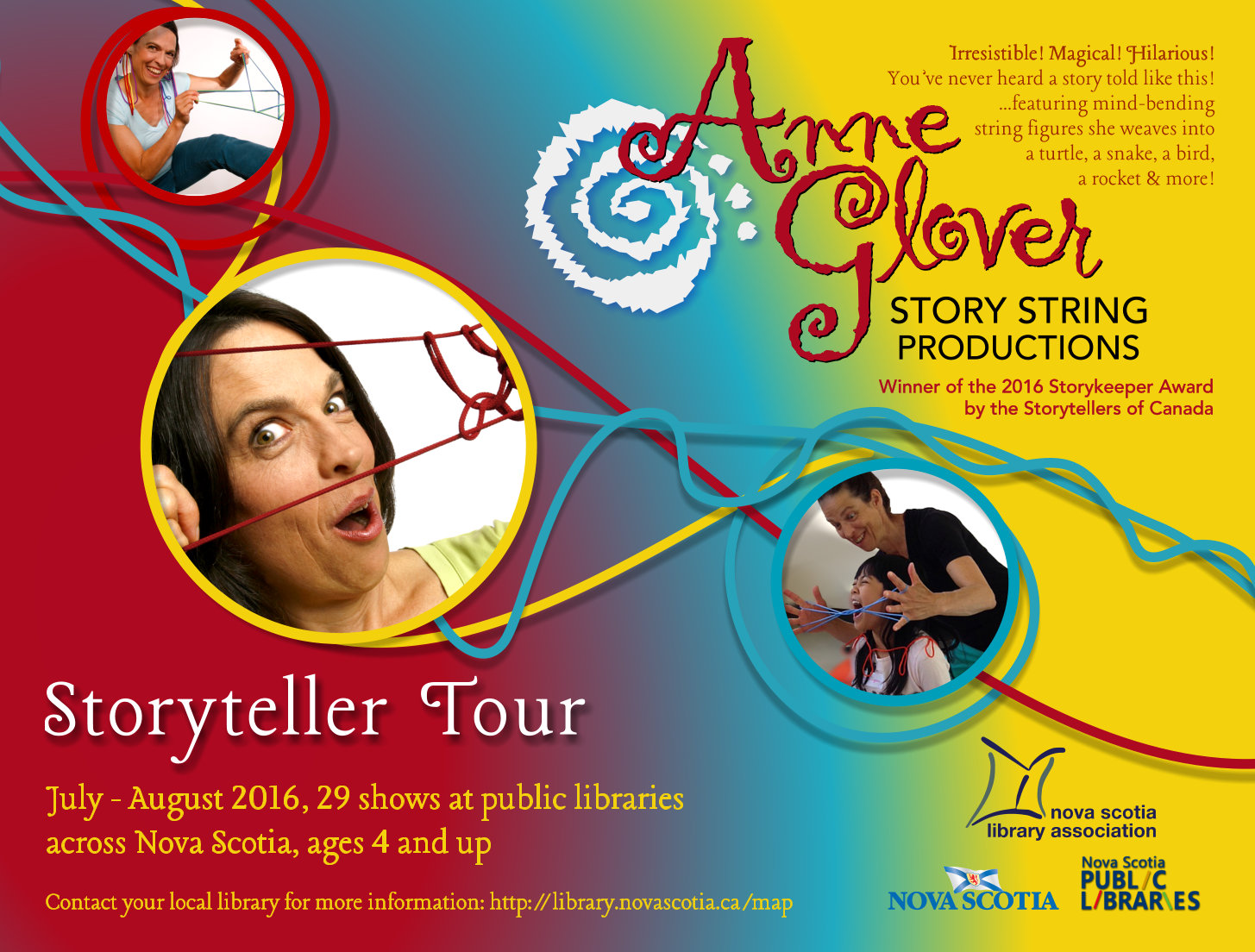 Professional storyteller Anne Glover will be touring across the province during the month of July, performing at 29 public libraries, from Digby to Liverpool and all the way to Sydney.
"We are really lucky to have Anne visiting us, she is from Vancouver Island and has "Wowed!" audiences across Canada and around the world, but it's her first time in Nova Scotia. She has just been awarded the 2016 Storykeeper Award by the Storytellers of Canada for her outstanding work. I think the kids will love her!" said Angela Reynolds, Community Engagement Coordinator with the Annapolis Valley Regional Library.
The Storyteller tour is part of the public libraries summer reading campaign, to engage kids with library programs and activities all summer long. The shows are for ages 4 and up.
"I am really excited to be visiting Nova Scotia, meeting people and taking in some of the province's natural beauty. Nova Scotia has a strong storytelling tradition, I am looking forward to taking in some of its' rich history and culture!" said storyteller Anne.
Storytelling stimulates children's imaginations, and develops an appreciation of stories and reading. Storytelling as an art form is both entertaining and acts an educational tool, historically cultures have always told tales as a way of passing down beliefs, history and traditions.
Anne will also be offering two professional development workshops for library youth services staff.
The tour is organized by the Council of Youth Services, which includes youth services staff from all nine public library regions in Nova Scotia, with funding provided by the Nova Scotia Provincial Library, the Department of Communities Culture & Heritage, and the Nova Scotia Library Association.
Anne just completed a 4-week tour of Chile and Argentina, read about her travels on her blog - http://anneglover.ca/blog/
You can follow her Nova Scotia tour on Nova Scotia Public Library's Facebook (www.facebook.com/NSProvincialLibrary) or Twitter (@NSProvLibrary) accounts.
See tour dates below, contact your local public library for more information.
Storyteller Tour Schedule
Dates/Locations:              
July 13 (Wednesday):
11AM: Thomas H. Raddall Library, Liverpool
2PM: Margaret Hennigar Library, Bridgewater
July 14 (Thursday):                                                                                   
10:30AM: Cole Harbour Public Library
2:30PM: Corner Stone Park, Middle Musquodoboit. In case of rain: Musquodoboit Valley Family Resource Centre
July 15 (Friday):                                                                                          
11AM: Musquodoboit Harbour Public Library
July 16 (Saturday):                                                                                    
11AM: Lunenburg Public Library
July 18 (Monday):
11AM: Hantsport Public Library
July 19 (Tuesday):
10:30AM: Kentville Public Library
2:30PM: Kingston Public Library
6PM: Bridgetown Legion (in partnership with RCMP Senior Safety)
July 20 (Wednesday):
10:30AM: Middleton Public Library
1:30PM: Wolfville Public Library
July 21 (Thursday):
11:00AM: Weymouth Public Library
1:30PM: Digby Public Library
July 22 (Friday):
3PM: Mount Uniacke Public Library
July 23 (Saturday):
July 26 (Tuesday):
10:30AM: Amherst Public Library
2PM: Tatamagouche Public Library
July 27 (Wednesday):
10:30AM: Stellarton Public Library
1PM: New Glasgow Public Library
July 28 (Thursday):
3PM: Antigonish Town and County Library
July 29 (Friday):
10:30AM: Canso Public Library
1PM: Guysborough Public Library
July 30 (Saturday):
10:30AM: Sydney Public Library
2PM: Glace Bay Public Library
August 2 (Tuesday):
12:30PM: Baddeck Public Library
3:30PM: Port Hawkesbury Public Library
August 3 (Wednesday):
12:30PM: Mulgrave Public Library
August 4 (Thursday):
1:30PM: Elmsdale Public Library