Family Literacy Day is January 27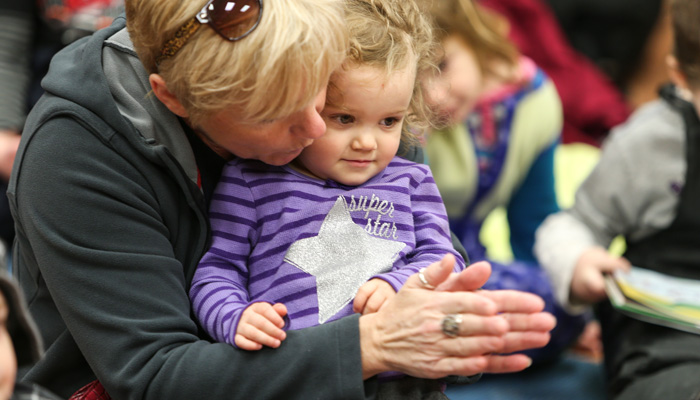 Family Literacy Day is held annually on January 27 to raise awareness of the importance of reading and engaging in other literacy-related activities as a family.
Taking time every day to read or do a learning activity with children is crucial to a child's development. Even just 15 minutes a day can improve a child's literacy skills dramatically, and can help a parent improve their skills as well.
From reading to storytelling, family games to crafts, singing and drumming, pyjama parties, family letter writing, storytime, puppet shows… there is so much happening in public libraries across Nova Scotia and ways for families to get together and celebrate!
Here's a sample of what's happening:
Drum-Song-Stories – January 26 / 3:30-4:30 – Digby Public Library
Bingo! It's Family Literacy Day [PDF] – January 26-30 – all branches, South Shore Public Libraries
Family Literacy Letter Writing – Jan 30 / 1:00-4:00 – all branches, Colchester-East Hants Public Library
Games Day for Family Literacy Day – January 30 / 11:00-4:00 – Stellarton Public Library
Find out what's happening at your local library and join the celebration. To find your local library, visit: library.novascotia.ca/map
Here's a list of some useful resources:
15 Minutes of Fun – literacy activities to get your family started
http://abclifeliteracy.ca/fld/15-minutes-of-fun
Learning can happen at any time, check out this video for great ways to share 15 minutes of fun with your family
https://youtu.be/0m4XUOHlp3E
Family Literacy Fun - make learning time as a family, fun time together
http://abclifeliteracy.ca/family-literacy-fun
How To Read to Your Baby
http://www.readtome.ca/wp/how-to-read-to-your-baby/
The Canadian Children's Book Centre share their recommended reads for Family Literacy Day
http://www.bookcentre.ca/newsletter_jan2016#booklist
Let's Play Together: A Guide for Parents of 4-Year Olds
https://www.ednet.ns.ca/files/2015/LetsPlayTogether.pdf