Heritage Day: Viola Desmond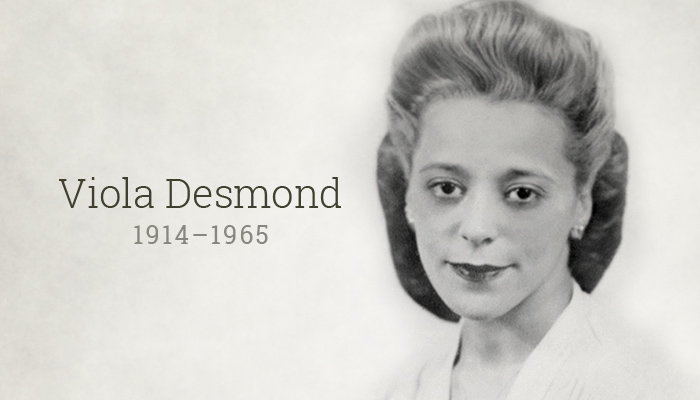 In advance of Nova Scotia's first Heritage Day--this year honouring Viola Desmond--what better way to learn about the 2015 honouree than to do some reading (and listening, and watching). Our NSPL staff have prepared the following resource list of books, CDs, websites, and online videos that are available through public libraries across Nova Scotia.
BOOKS
Viola Desmond Won't Be Budged / Jody Nyasha Warner ; pictures by Richard Rudnicki. Groundwood Books, 2010. (children's picture book).
La Détermination de Viola Desmond / Warner, Jody Nyasha Warner. Éditions Scholastic, 2013. (un livre d'images pour enfants)
Sister to Courage: Stories from the World of Viola Desmond, Canada's Rosa Parks / Wanda Robson with Ronald Caplan. Breton Books, 2010. Written by Viola Desmond's sister, she explores the world she shared with Viola and ten other brothers and sisters.
The Nova Scotia Nine: Remarkable Women, Then and Now / portraits by Jo Napier ; stories by Joanne Wise. published for the Advisory Council on the Status of Women by Communications Nova Scotia, 2014. Inspired by the portrait collection by Jo Napier, this book consists of a short biography on each of the Nova Scotia Nine, which includes Viola Desmond, and concludes with comments from contemporaries inspired by these great women.
To view and download a pdf version of the book, click here.
To view a pdf of the section on Viola Desmond, click here.
Leading the Way: Black Women in Canada / Rosemary Sadlier. Umbrella Press, 1994. 
The African Canadian Legal Odyssey: Historical Essays / edited by Barrington Walker. University of Toronto Press, c2012.
CDs
Living in Hope: Viola Desmond's Story. 1 compact disc (60 min.). CBC Audio, 2007. A dramatized account of a pivotal moment in Canadian race relations: on November 8, 1946 Viola Desmond refuses to move to the upstairs balcony in the Roseland Theatre, and is forcibly removed from the theatre and thrown in jail. The resulting legal battle was taken all the way to the Nova Scotia Supreme Court.
VIDEOS
Long Road to Justice - The Viola Desmond Story (Full Documentary): 44:23 mins, 2012.
Nine years before Rosa Parks famously refused to give up her seat on a bus in Montgomery, Alabama, an African Nova Scotian entrepreneur made a similar stand in a New Glasgow movie theatre. This documentary highlights the life of Viola Desmond and places her action and its consequences in the broader context of the struggle for civil rights in Nova Scotia.
Journey to Justice (NFB Documentary): 47 mins, 2000.
This documentary pays tribute to a group of Canadians who took racism to court. They are Canada's unsung heroes in the fight for Black civil rights. Focusing on the 1930s to the 1950s, this film documents the struggle of 6 people who refused to accept inequality. Featured here, among others, are Viola Desmond, a woman who insisted on keeping her seat at a Halifax movie theatre in 1946 rather than moving to the section normally reserved for the city's Black population, and Fred Christie, who took his case to the Supreme Court after being denied service at a Montreal tavern in 1936. These brave pioneers helped secure justice for all Canadians. Their stories deserve to be told.
ONLINE RESOURCES