Wee Ones at Alderwood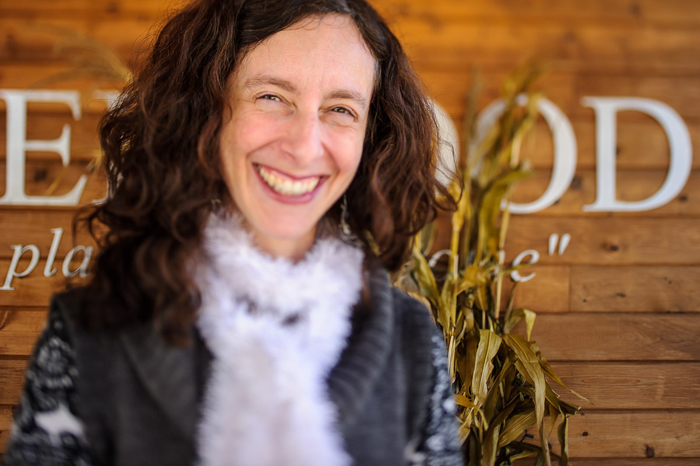 The library doesn't judge you. It has what you need to become who you are. - Kate Oland, Librarian, Baddeck Public Library, Baddeck, NS
Can you tell us about the Wee Ones Program?
Although it's a program that is primarily directed at children, there is another level of participation--seniors. I'm trying to understand what components I can bring to the program that would be stimulating for them as well. I want the invitation to be there to participate in the storytelling session. We've been running the program or a variation of it for three years. The genesis of the program used to be a Baby & Books program in the library – a former program-person at Alderwood invited me to hold the program at the facilities. My idea was to run the Babies and Books program and the seniors would be there as an audience, it didn't take me long to realize that the seniors were adding another level of participation. In the first session, it appeared that two of the seniors were sleeping, the next week those two individuals sang the opening and closing songs. That surprised me and got me thinking if there was a way to design a curriculum without directing the program at seniors, but to benefit children, parent, and seniors. I hope that my program is becoming more significant in reaching the needs of everyone from babies to seniors. 
What is the value of creating this intergenerational conversation?
In our society, we often get segregated by age. We have an aging community and mostly have seniors doing senior activities and children doing children activities. Having events with both generations breaks down the barriers and teaches children how to relate to seniors. I think having the children in brings a vibrancy and light into the seniors home. For parents, they can speak with the seniors about raising children. 
How did the event today tie back to what you just mentioned?
The staff at Alderwood made a point to create direct contact with children and seniors. We always have visiting time around the circle--you can see the seniors participating by way of singing or actions. I always get lots of positive comments from participants. If everyone goes away feeling like they've had fun and became closer together--that is what I'm striving for.
Do you think the event today was a success?
Yes, I'd love to see more families out. We've had larger numbers in the past. The richness of interaction expands with more families particularly with the babies interacting with each other. You'll see babies in the program progress to toddler programs and they become more comfortable in their surroundings along with an increased interest in books. 
Why are stories so important?
Stories are important in terms of being able to share with each other who we are and our experiences. We come from different backgrounds and perspectives and sometimes there are barriers that get in the way--stories create an element of play that helps with understanding. It seems to bring everyone to the same level such as being around a campfire – that's where the magic happens and connections are made – where we have empathy with other people's stories.
How do we create a new generation of storytellers?
As a grown-up modeling that it's okay to mess up and be silly and foolish. I was very shy and introverted and nervous in social settings as a kid. It took me many years to come out of that place--it's a gift that I want to give to kids, that it's okay to mess up and not know the answer. Creating a new generation of storytellers is about liberating and creating safe spaces for people.
What's the importance of the library?
The library doesn't judge you and has what you need to become who you are. Learning doesn't get imposed upon you, you walk through the door with a desire to learn something--we're not going to judge it, just facilitate. 
How would you describe the library in three words:
Community, curiosity, and innovation. Libraries are a great place to adapt to new technology and opportunities.