Librarians in Focus: Tara MacNeil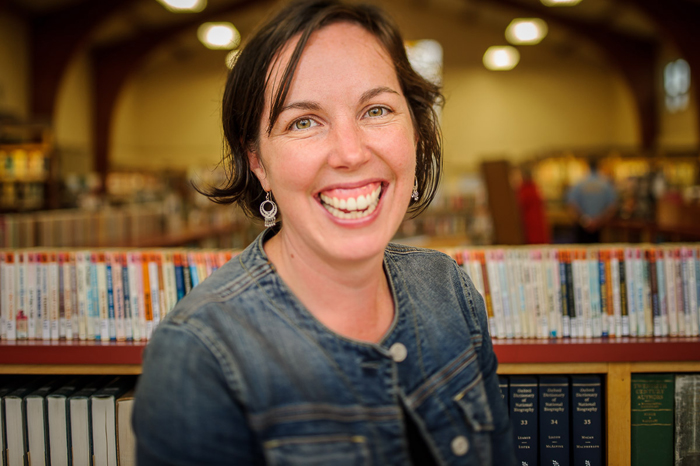 I realize more and more how important it is to everyone. - Tara MacNeil, Program Coordinator, James McConnell Memorial Library, Sydney, NS 
Tara MacNeil is a program coordinator with the Cape Breton Regional Library. She helped coordinate the We Banjo 3 performance at the library today in association with the Celtic Colours International Festival. The library has had a relationship with the festival going on 17 years. 
Have you been working in the library since the first Celtic Colours put on a performance here?
I have been here for 10 years, so every year I worked here there has been a Celtic Colours conversation. I have witnessed different discussions, different groups, and so on. 
What's your best memory from working in the library?
We did team songwriting contests and the finale is a songwriting circle. It's usually five to six finalists with four local judges.They all participate in the songwriting circle and it's very fun with a very warm crowd. You get treated to the song they created and it's definitely been a highlight to see that. The last one we had was this March. There are many great memories that come to mind. 
What has the library taught you? 
It wasn't what I expected when I first started here. I have always had great experiences with the library as a kid. My mom would take us and we all loved books. It's very vibrant and energetic and busier than what I remember from back in the day. I enjoy that it's a space for everyone, anyone in the surrounding community--there's something for them! Seniors to babies enjoy our library space. I realize more and more how important it is to everyone. 
If you could describe the library in three words, what would it be?
Warm space, open to everyone, and accessible with no limitations to coming in and using the resources
How would you describe what happened here today?
We had an excellent musical showcase from four musicians from Ireland that are super talented. They travel the world and they are here for a festival and we got to catch a glimpse of what they do in an intimate scenario. The audience was close to them and they certainly asked "do you have any questions for us?" They were very accommodating and involved with the audience. The audience was all ears and very involved. 
We are changing the attitude about libraries as a space. Learning about peoples' experiences from traveling by attending those events at the library. We are open all day, all weeklong, and we have a central location. We want to help people find new stories and ideas. Being exposed to different experiences such as the musical performance today is a great example.
What was the age range of the audience today?
 It was all ages attending the performance. It was great that everyone here felt that this is their show and they realized that there is space here. It's great because it is inspiring moments for kids as well whom this might be their first experience with the library. It inspired me as well.