Artist in Focus: Donovan Shirt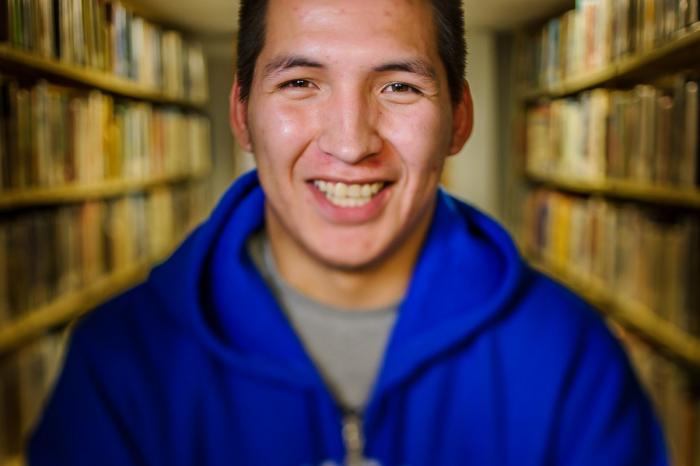 A month dedicated to libraries? It's dope. - Donovan Shirt
Donovan Shirt performed as part of Singing Storytellers at the James McConnell Memorial Library on October 9th, 2014.
What's your story?
I live in Edmonton, Alberta – a motivational speaker and rapper. I work with the iHuman Youth Society.
My stage name is Genesis; the meaning is that it's the formation of origin. I was hanging out with my friend and we went through a dictionary to find a stage name. My friend listed off Genesis as the last word he will read and we found that it referred to the formation of origin, which was pretty cool. I thought about all the words I had read and let it sink in – and it stuck with me. I just try to give people something to think about, or let my words resonate with them. I form origins for them. I create thought bubbles and burst them into people's heads. I formulate things.
What brought you to the library event today?
I did a TEDxYouth event in Alberta, and met a contact from the Cape Breton library who encouraged me to apply for this event. I put in two hours creating the application to come here, I was paid for the work that I did on the application and accepted. It blew my mind that people would want to hear about it. They flew me out and now I am here!
What do you consider the role of the library in fostering communities?
The library feels like a warm community. Today, after getting into my personal stories, it felt very close. It really brought people together – they were open to me.
As a storyteller you share you story through music – how do you want your generation to continue doing this?
They should do what really resonates with them – do what you're into and how you want to express yourself… through graffiti, dancing or mc-ing. It can come through physical things or verbal things. Just do what you love.
What is the power of storytelling?
Storytelling is just a really big way of someone getting to know someone else. In my tradition, we all have tribes, through those tribes we come together to share stories and bring communities together. Storytelling connects people. I would encourage my friends to come and engage in these activities.