Writer in Focus: Chris Benjamin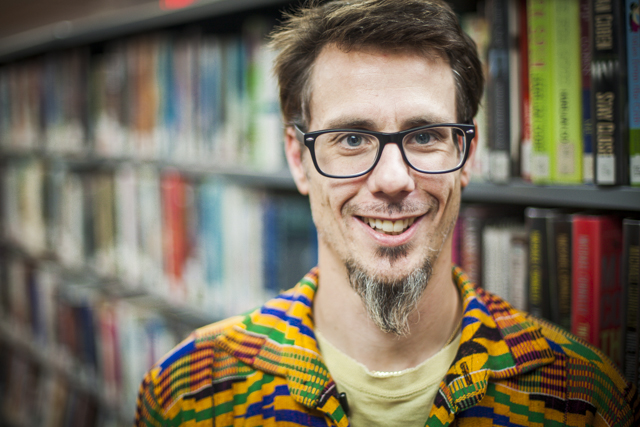 We are nothing without stories. - Chris Benjamin
Chris Benjamin is a freelance journalist and an author of fiction and non-fiction. He is the current Writer in Residence at the Pictou-Antigonish Regional Library.
What is the value of Canadian Library Month?
I think Canadian Library Month does the great service of reminding us that libraries are a place to gather. It's not only to gather resources, but to gather as people--meet one another, exchange ideas, and enjoy books. Plus the physical resources that are available like the space to meet and the tools that are in the library. 
What do you love most about the library?
I love books. And every library is different, but I love every library and just being in the presence of books. I love small community libraries. I've been in tiny libraries about the size of my washroom with wall-to-wall books and people using computers. Now we're spoiled with the Internet but it's not the same as using books. As a writer, I love books. I have visceral memories of reading under the sheets with the flashlight – to this day I'm always the last one to go to sleep, I always stay up late to read. I love being in the presence of books, and being around people that love and care about books. I love that atmosphere whether it's a tiny little library or a giant one.
What is the best moment you ever had at the Library? 
I spent six months in Indonesia for Grad school--when I left I had 12 books and National Geographic magazines. Before I left, I took them to the library because I thought they might want some more English literature books--they were so overwhelmingly thankful that they gave me a tour around. For them, it wasn't about what I gave them, it was about a foreigner coming in and giving
them something. It was very touching and it inspired me. It doesn't take much--such a simple act but with huge impact. It was in a community environment within a university where everyone was welcome.
Do you have a memory from a library in Nova Scotia that you can share?
I grew up in Beaverbank, Nova Scotia, and we had a writer come in a do a workshop--I don't even remember who it was, but I was so excited that a real published author was at my library. I went to the workshop, asked questions and took copious notes. I was then working on a novel. Even though that work wasn't published, I eventually had a book I wrote got published. I know that I owe some of that to going to that workshop and learning about how to get a book published. 
How does it feel to have multiple books published?
I still remember the moment I got an email from a publisher who wanted to go for coffee to discuss having my book published. I ran upstairs and told my wife and we did a dance in the kitchen and we cried--a book of mine was going to be published. It's still very exciting when the box of books arrives from the publisher with ten free copies for me. 
When you look back to that did you know you'd become a writer? What did the library teach you?
I had fantasies of being a writer at a young age but put those away because I thought it would be impractical. Every school I went to had a library tour from grade school to university--we'd meet the librarian and there would be books available. It never escaped my mind--I always enjoyed writing and people always told me that I was a great writer. It never got away from me and eventually I took the plunge and became a journalist and then a published author. Libraries helped to let me know that it was possible to become intellectual storytelling beings--everyone has stories and we're capable of creating these books.
What's the best book you've ever read?
My favourite is War and Peace--a book that took me inside Russian war that up until that time I didn't believe a book could. I read a lot of literature, and as a literature lover I let my mind go--I was completely immersed in the lives of the characters with that book. There's richness in the way it's written, throughout the 1400 page book, I was never bored or anxious to get to the ending. It was a complete journey. It was remarkable. I still don't know how he did it. I felt completely connected to it and that's a miraculous feat.
What book would you recommend to everyone?
If there's a single book everyone in Nova Scotia should read it's We Are Not the Savages--this is a history of our region that challenges mainstream history. It tells the story from a Mik'maq perspective. It was all written from European archival information. The author was able to find the evidence that the Mik'maq were not the savages. The battle that ensued in the region was
lead by the British, not the other way around. As a history lesson and present lesson on knowing who we are, we should all read this book.
What was your first memory of the library? 
Being in a library tour at 6 years old, and I remember there being books everywhere. I had books at home, but this was different: there were little books and big books, every type of book.
Describe the library in three words:
Books. Learning. Community.
Elaborate on community?
It's not just about learning and reading and enjoying books, although that's what gets me excited. People come in to connect with other people--especially in a small community. The library is open almost every day, it's free, it has the internet, and it has other people. It's like the role that religious institutions used to play, it's a gathering place. Community-building function is more and more important that it used to be.
What is the value of the Writer-In-Residence program?
Me as a young man going to this workshop and seeing a real writer doing what I thought I wanted to do was essential. If you don't see someone who has done it, it just seems like an impractical fantasy. If you see someone who has done it then you understand that it's a possibility. On top of that we can sit down and talk since we have mentoring sessions and I can give them constructive feedback and encourage them. They can then come back and build on that in another session. We can also talk about ways to develop a book. All of these things together create a much more realistic publishing and writing option for people who feel isolated from the publishing world.
What got you interested in research on history and historical writing?
The main thing that got me into historical research was a specific question about the Shubenacadie Residential School. I read a memoir of the school and it raised a lot of fascinating questions surrounding what happened. The author looked into it a little bit--but it was a wide open question. I wanted to understand how my ancestors, European Canadians, came up with this cruel past. These were specific research questions and I was thrust into historical research. It took two years of research to really get any kind of answer--there is never a 100% satisfactory answer. A Mi'kmaq ancestor said that this story doesn't have an answer yet and it should be continuously told and shared. I used a variety of sources to try and get an understanding of the school. If we want to understand history, we need to understand that what we are living now is based on the past. Understanding as many angles as we can to get a full understanding of our history.
In your opinion, how did your workshop go?
I felt it was a success, we had a good turn out. We cap the sessions at 15 people maximum to ensure they are interactive. Everyone was engaged--I got a lot of questions and comments. To me, this feels like a success. It's hard for me to judge my own work but I feel that it went well. There is a workshop every week for the next several months. People are going to take part in "Pitch the Publisher" and receive feedback from an actual publisher such as Nimbus on their pitch including what they need to do in order to further sell their idea. Other workshops will include freelance writing.
What would you say to someone who hasn't been in a library in years?
It's hard for me to fathom that a library is not open to everyone--I might wonder if this is a person that wants to sing loudly at the top of their voice! Consider what is on offer here, here is a place of exchange and a chance to be with people from your community, meet new people and see old faces you haven't seen in a while. It's a lovely sense of community you get when you go to things regularly.
Is there any case when a workshop attendee has left a session and gone on to do great things?
I had a participant who did a writing exercise on character judgment – imagine someone who approaches a podium to do a speech and how they react. The participant took that and wrote ten pages – we went from a writing exercise to a fully developed piece of writing. I also met with a woman who had spectacular writing – I did not have constructive feedback. But rather, I encouraged her to finish it and take it to a publisher… I hope that she follows through on that. Sometimes writers' biggest mistake is not knowing how good they are.