Thundermaker Launch at the People's Place Library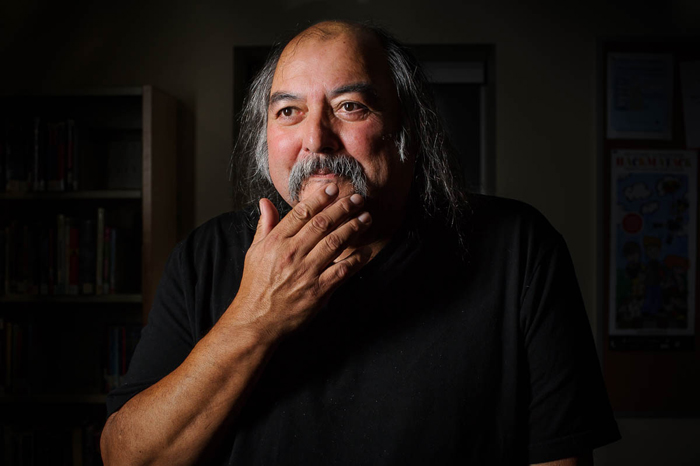 Art is my vehicle that allows me to share the stories of the Mi'kmaq culture. - Alan Syliboy
On a sunny day in Antigonish, Nova Scotia, a crowd of art fans and library patrons gathered at the People's Place Library for the launch of a unique exhibit.
Alan Syliboy's Thundermaker is a mixed-media exhibit that tells the story of Little Thunder. Through different forms of art, a viewer follows Little Thunder as he learns about his Mi'kmaq identity through stories from his Mother and teachings from his Father, Big Thunder. 
A partnership between Syliboy and Nova Scotia Public Libraries, Thundermaker is inspired by the recently discovered Mi'kmaq legend of "The Stone Canoe." 
"The stone canoe story was lost for 150 years," said Syliboy. "It was one of the only natural stories that was not tampered with; it was a pure story. I ended up illustrating the book and then it translated into the Thundermaker."
In this exhibition Syliboy tells the story of the Thundermaker through traditional artistic techniques and multimedia. A circle of illustrated panels greets the visitor. The panels are based on the childhood of Little Thunder (Kaqtukwaqsis), whose mother teaches him stories that have been passed down from generation to generation. The visitor is then presented with another circle of images that depict Little Thunder being taught lessons by his father, Big Thunder. Little Thunder is learning to become a provider and to become the new Thundermaker. The viewer then enters a tipi and is witness to Little Thunder making thunder for the first time. This last component is presented through projected animation.
Thundermaker's animation was produced over three years. A partnership with animators in Syliboy's home of Truro, Nova Scotia, led to the creation of the short film component. 
Luke Fancy, one of the animators, was at the launch. He said it is important to recognize the role libraries can play in the creation of art. 
"The art that I see coming from these local libraries is fantastic," said Fancy. "I would definitely recommend friends and other people to come check it out. It's a great way to showcase the local talent and community."
The Thundermaker exhibit has three goals: to demonstrate public libraries as venues for arts, culture, learning, and understanding; to showcase Mi'kmaq legend, culture, and history; and recognize the contribution and opportunity of First Nation's artists in Nova Scotia's cultural economy.
Thundermaker will be touring Nova Scotia through public libary branches until June 2015. A full schedule is available on Syliboy's website.